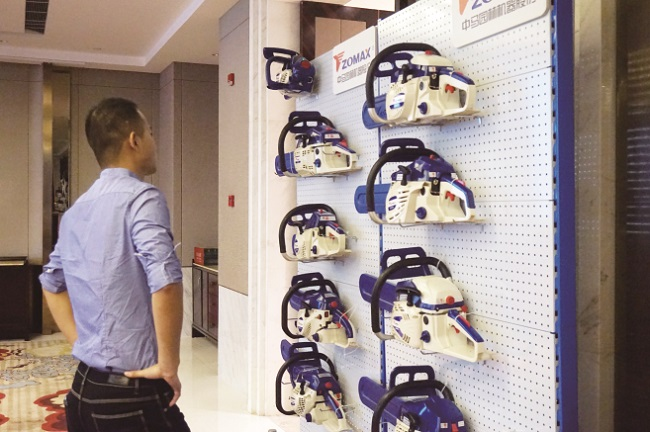 The 2021 Brand Operators Conference of ZOMAX Garden was held in Wenling International Hotel, on September 23,2021. The company's middle and senior managers, sales representatives and dealer representatives from all over the market has participated in this meeting.
In recent years, ZOMAX Garden has strictly implemented the work essentials proposed by Chairman Mr. Wu Liangxing of the Group's Board of Directors. It has taken "Focus on ZOMAX Brands" proposed by the company's general manager Mr. Wang Yili as a strategic plan to focus on the market, continue to improve products, and increase efforts to invest in research and development of New Energy products, the company's revenue reached a new height, which strengthened the confidence of the company's distributors in ZOMAX Garden.
At the meeting, Engineer Mr. Huang Xinyue, the representative of the company's technical department, announced the new products that will be launched soon, the Gasoline chain saw ZMC5966, 21V Battery Chainsaw ZMDC201. The two new products are more popular and make users more convenient to operate.
Mr. Wang Yili, general manager of the company, said at the meeting that ZOMAX Garden has broken conventions and made new breakthroughs in recent years. Taking "Focus on the ZOMAX Brand" as a strategic plan, integrated technology research and development is guided by user needs, products are produced in a diversified way of core brands, and sales are based on the market as the actual situation in a new situation, which changes the company's years of experience and concepts. The efficiency of the enterprise has been improved. The company will continue to innovate. While continuously improving gasoline-powered products, it will take lithium battery garden machinery products as the new promotion goal of ZOMAX Garden. It will unswervingly take innovation as the driving force, take market development as the guide, and seize opportunities tightly. ZOMAX Garden must make new achievements. Enterprises must carry out discussions on emancipating their minds, carry out extensive quality improvement actions, comprehensively improve cost control capabilities, and continue to develop the new market. It will enhance to build ZOMAX Garden into a smart enterprise.
At the end of the meeting, Mr. Wang encouraged all employees of ZOMAX Garden to establish a cultural innovation carrier of ZOMAX confidence, brand confidence and cultural confidence, continue to develop user-oriented products of ZOMAX, and build dealers and users' confidence in the ZOMAX brand, to truly realize ZOMAX' mission of "Create a global brand, to Serve the world".
---
Post time: 25-11-21