ZOMAX 58V 4.0AH Lithium-Ion battery pack for cordless chain saw electrical garden tools
Product Detail
Product Tags
Overview
Quick Details
Warranty:

1 year
Customized support:

OEM
Place of Origin:

Zhejiang, China
Brand Name:

Zomax
Model Number:

ZMLB5140
Type:

58V Li-ion battery pack
Feature:

58V Li-ion battery pack
Power Source:

58V Li-ion battery pack, Electricity
Application:

battery for Zomax rechargeable tools
Model:

ZMLB5140
Certificates:

CE ROHS
Cell:

Samsung
Standard:

58V DC. 4.0Ah
Recharge Time:

2hours ( based on 2A charger )
Working Environment Temp.:

- 20℃- 45℃
Dimension:

114 x94 x172cm
Weight:

1.8 kgs / 3.9lbs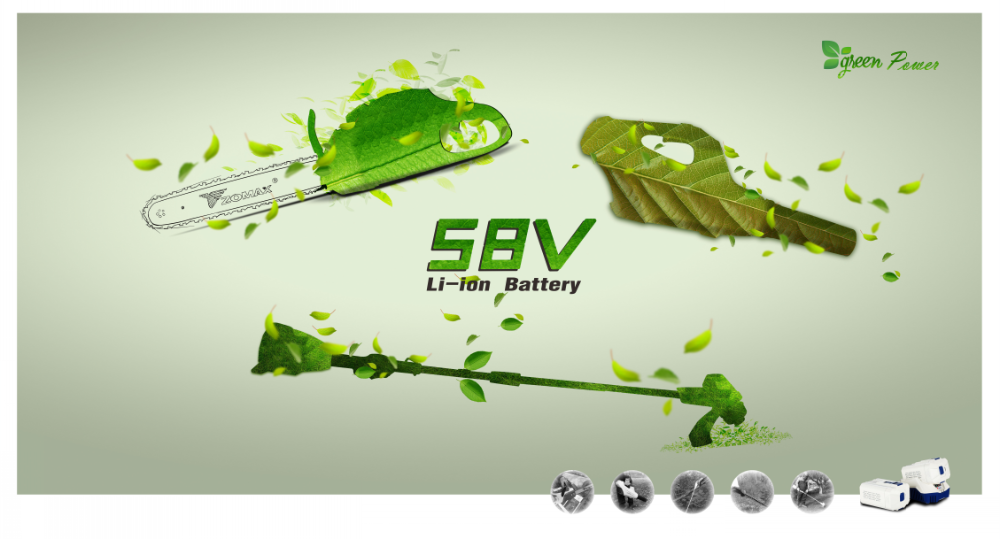 Green Energy, Green Life
Powered by Zomax 58V Li-ion tools
Family cordless tools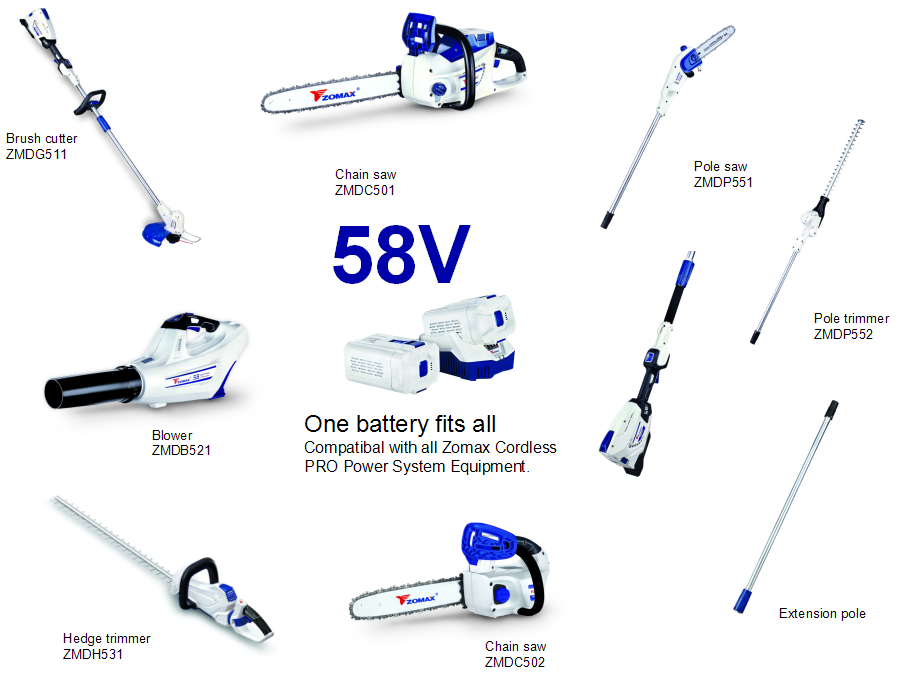 1. Battery Compatible Tool One: 58V Cordless Hegde Trimmer
    1st. Waist pack battery design and  only 3.0kg/6.6lbs of light weight at hand;  
     2nd.  25″ dual blade;
     3rd,  Running time of max. 60minutes (with 2.0AH battery)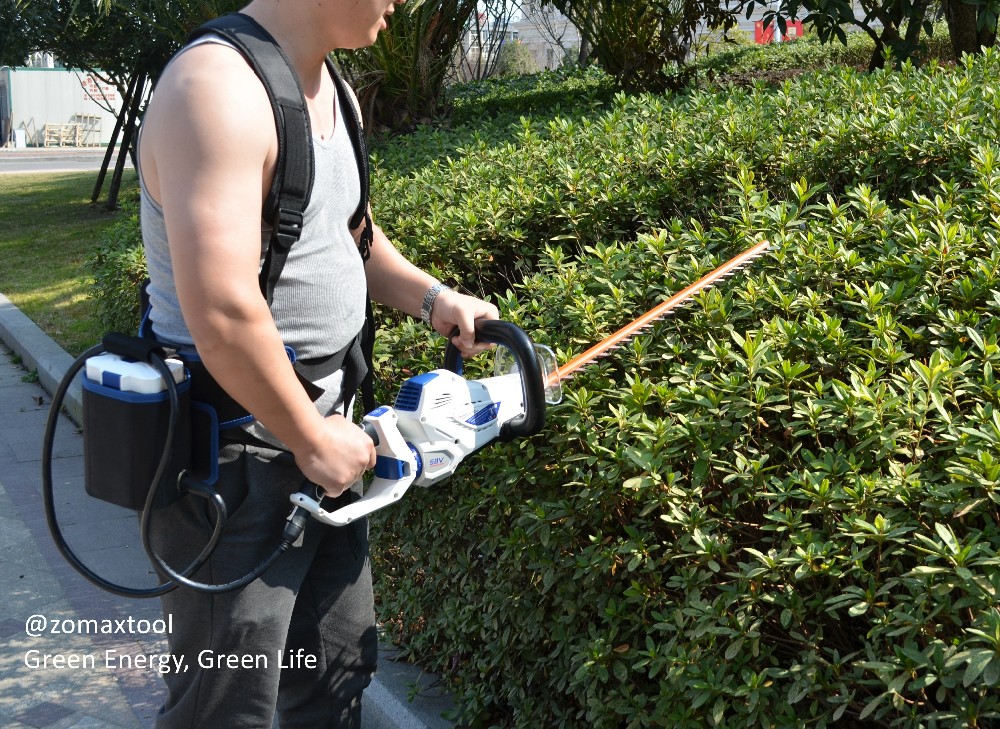 2. Battery Compatible Tool Two: 58V Cordless Top-handle Chainsaw
   1st. Waist pack battery design  and only 3.2kg/7.1lbs of light weight at hand;  
    2nd. 12″ Oregon bar;
    3rd.  Max. no loading running time of 70minutes (4.0AH battery);
    4th.  Cutting capability of 220 pcs on 4″ dia. wood with a single 4.0AH battery charge;
    5th.  Its 1.2KW power outperforms most petrol-powered top-handle chainsaw;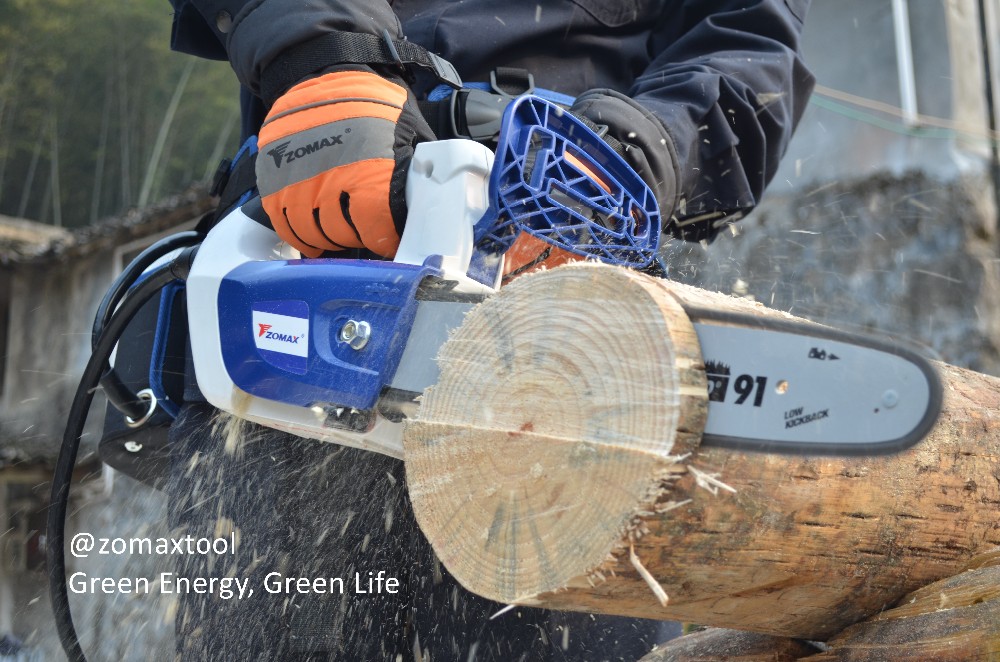 3. Battery Compatible Tool Three: 58V Cordless Chainsaw
    1st. 18″ Oregon bar and saw chain;
    2nd.  1.5KW power performance can be equivalent to 45cc to 50cc gasoline chainsaw;
    3rd.  Cutting capability of 120 pcs on 6″ dia. wood with a single 4.0AH battery charge;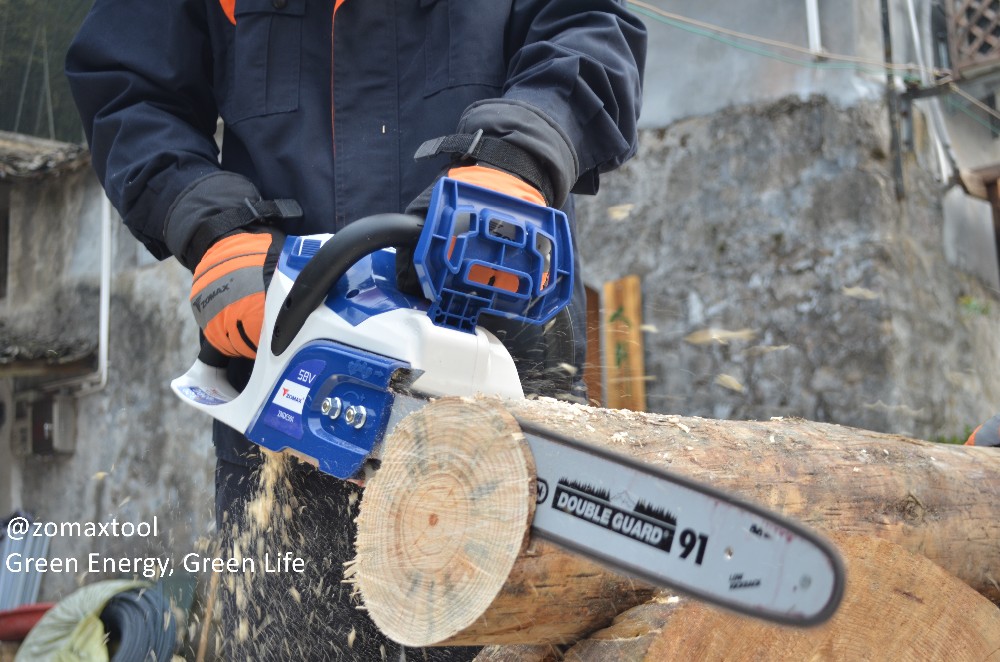 4. Battery Compatible Tool Four: 58V Cordless Leaf Blower 
    1st. 480CFM max. air volume
    2nd. Three wind speed selection and turbo button;
    3rd. Run time can be up to 60minutes on low speed option (2.0AH battery);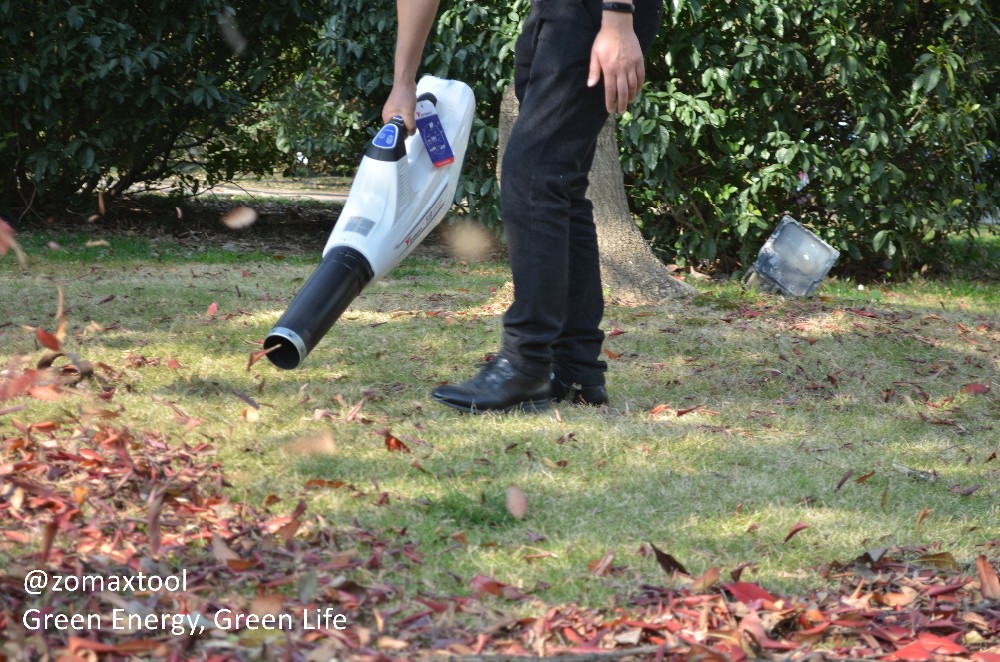 5. Battery Compatible Tool Five: 58V Cordless Straight Shaft String Trimmer 
    1st. 12inch cutting width;
    2nd. Dual trimmer line and bump feed line advancement;
    3rd. No-loading running time of 40minutes (2.0AH battery);
    4th. No-loading cutting speed: Max. 7000rpm.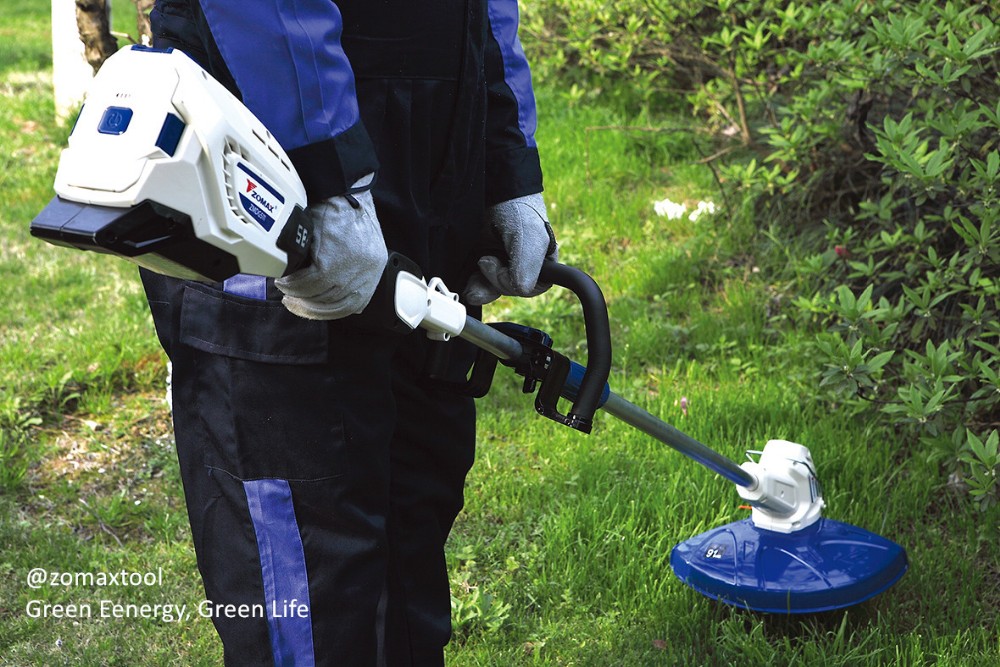 6. Battery Compatible Tool Six: 58V Cordless Pole Saw (with extension pole)
    1st. Pole Length of 2.8m/9′ can assist to reach cutting height of 13′-15′/ 4m.
    2nd. 8″ Oregon bar& saw chain
    3rd. No-loading running time of 50minutes (2.0AH battery);
    4th. Cuts Per 2.0AH Battery Charge can be 80 on 10cm x 10cm wood.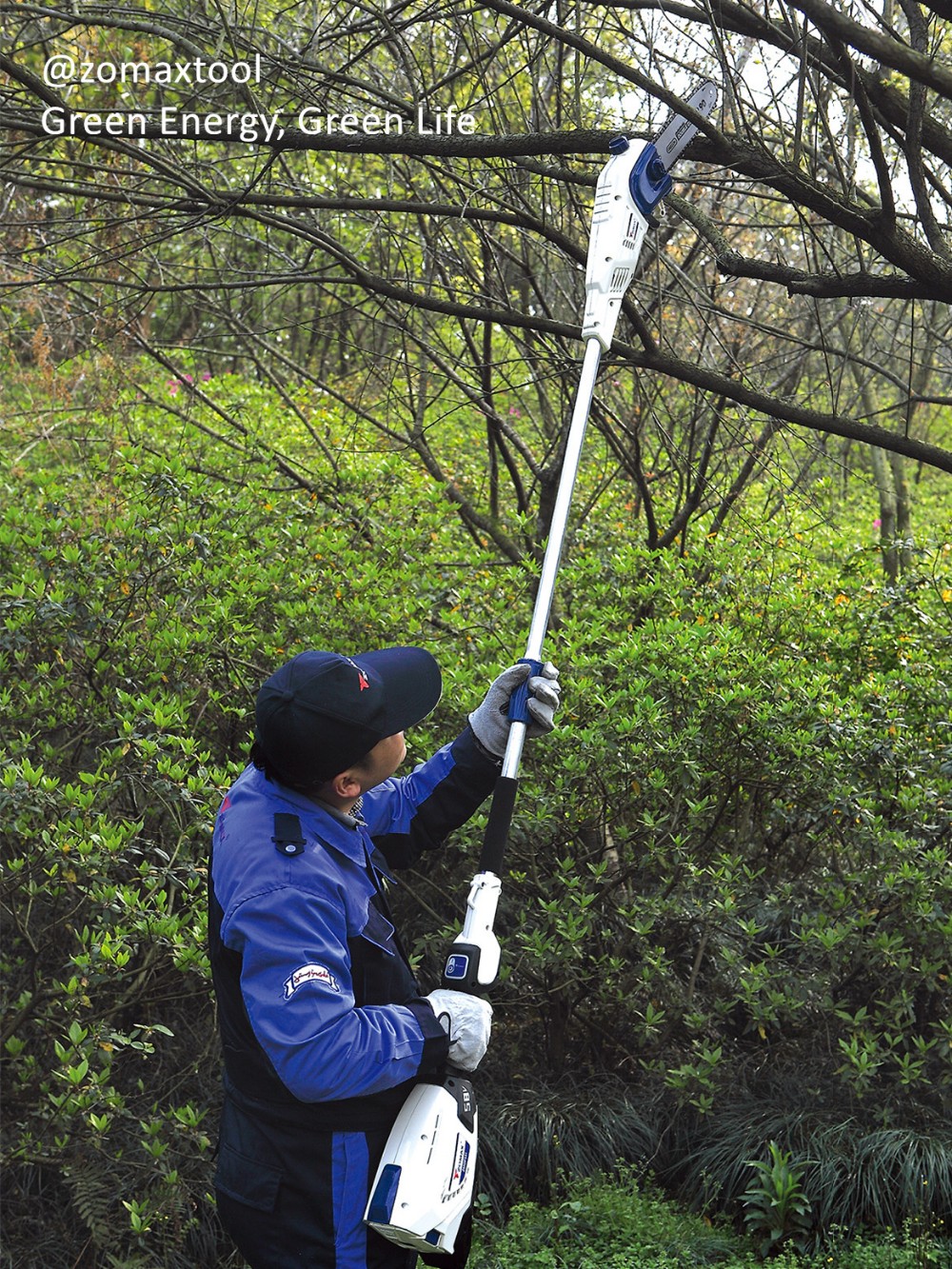 7. Battery Compatible Tool Seven: 58V Cordless Pole Trimmer
    1st. Llaser-cut blade;
    2nd. 20″/52cm blade length;
    3rd. Pole Length of 6′/1.8m can assist to reach cutting height of 8′-10′/3m.
    4th. No-load running time can be Max. 55 min.(2.0AH battery).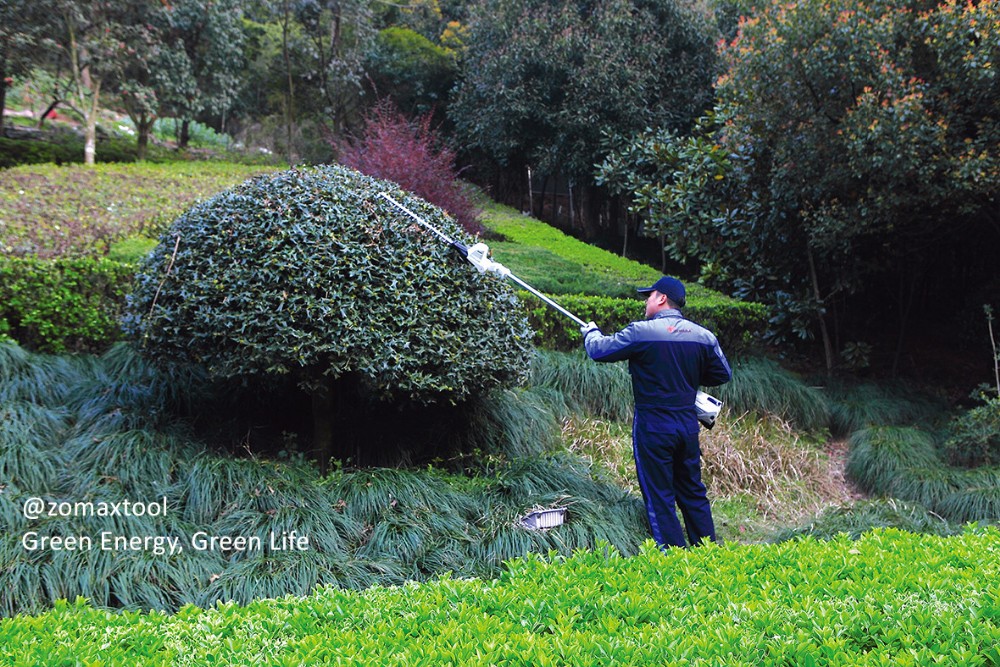 58V MAX – 4.0AH Lithium-ion Battery Pack (compatible for 7 powerful tools)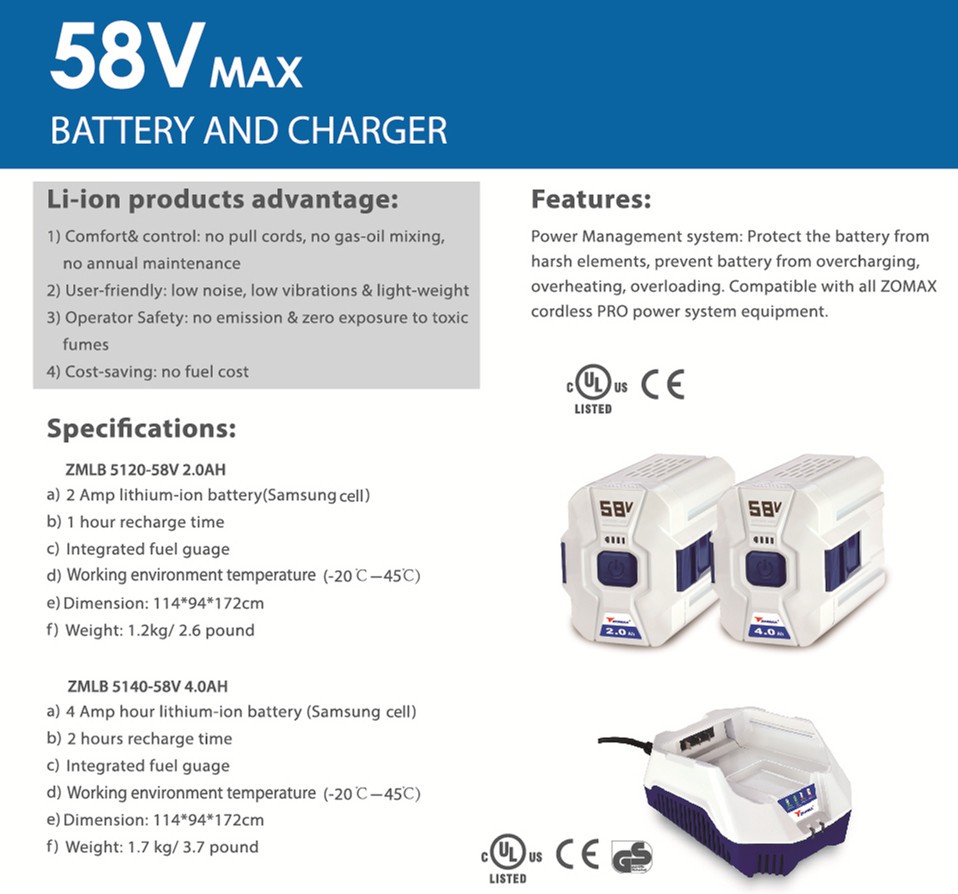 Specification
Description

4.0AH Lithium-ion Battery Pack

 

Model 

ZMLB5140

Certificates

CE, cULus, ROHS

Cell 

Samsung

Recharge

2hours based on 2A charger

Dimension

114x94x172cm

Weight

1.8 kgs / 3.9lbs
58V MAX – Battery and Charger
Li-ion products advantage:                                                                               
1) Comfort & control: no pull cords, no gas-oil mixing, no annual maintenance
2) User-friendly: low noise,low vibrations & light-weight                                    
3) Operator Safety: no emission & zero exposure to toxic fumes                      
4) Cost-saving: no fuel cost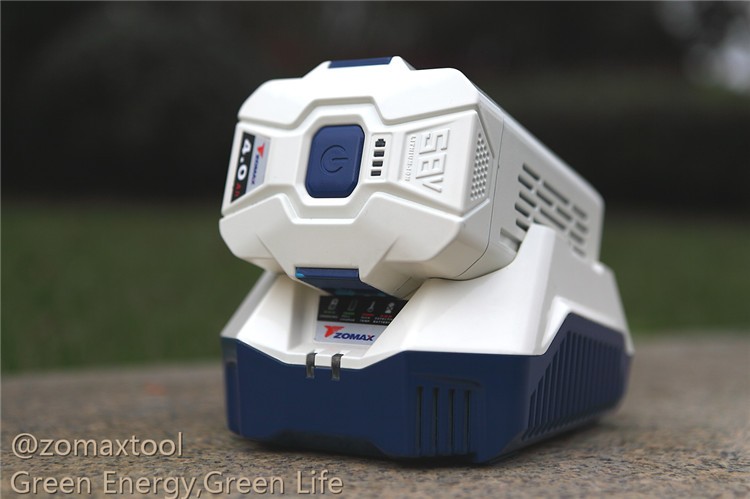 Features: 
Power Management system: Protect the battery from harsh elements, prevent battery from overcharging,overheating,overloading.
Compatible with all ZOMAX cordless PRO power system equipment.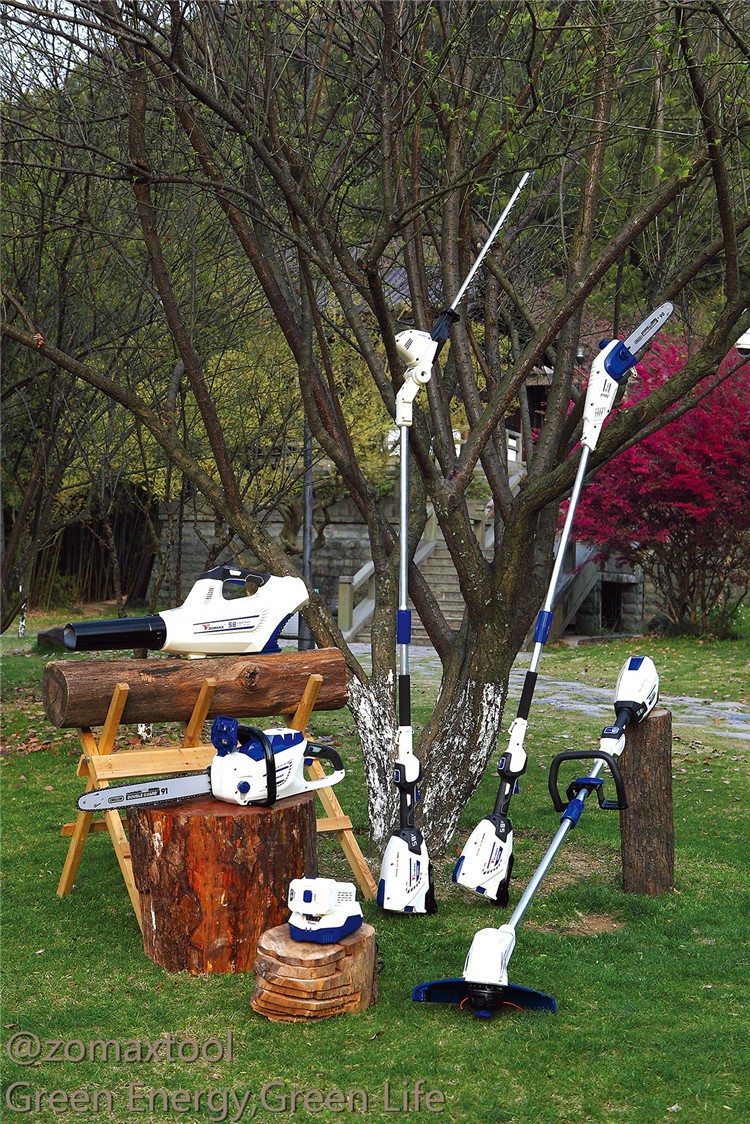 ABOUT US

What does Zomax Group Focus on?    
Zomax group is a private owned company in Wenling City of Zhejiang Province. China. Founded by Mr. Wu Liangxing, Zomax's annual turnover reached 246 Million USD in 2014. Now it has two industrial parks with more than 2,000 employees. Zomax is involved in industry of Motor Gears, Car transmission, Garden Machinery, New building material &Real Estate. 
What does Zomax Garden Focus on?

Zomax Garden Machinery is a subsidiary of Zomax Group and went into operation in year 2005. Zomax focused on offering a wide range of outdoor power tools, including chainsaws, trimmers, blowers, lawn mowers, powered by Gas or by 58V Lithium-ion Battery. Today, Zomax is one of leading chainsaw brand in China.
Zomax has leaded in drafting national or industry standards of chainsaw& other garden tools seven times, and involved in drafting national or industry standards 6 times till year 2015. 
---
Previous:
China wholesale Long Reach Petrol Hedge Trimmer Manufacturers – ZOMAX Ready To Ship 5200 Chainsaw 52cc petrol Engine Chain Sawchain Saw – ZOMAX
---